Online Degrees
Preparing Today's Students to Succeed in Tomorrow's World.
Request More Information
Complete this form and we'll get in touch with information about coursework, admissions, tuition, and more.
Note: All fields required.
#45-56 in Top Public Schools in the Midwest
16:1 Student-to-Faculty Ratio
#98 in Top Performers on Social Mobility
88% of Students Receive Financial Aid
Discover the Right Path Today
With any of the programs through the Shawnee State University Online Campus, you can acquire the right credentials for reaching your goals. Our online format offers the convenience needed to complete your studies on your schedule, wherever you wish. While completing your online program, you'll learn from instructors who teach our on-campus programs, allowing you to receive the same quality education.
Shawnee State provides students with personalized learning experiences and guidance to foster success, no matter their starting point or career interests. Through quality academics and a renowned faculty, our graduates begin their careers with confidence and the skills necessary for personal and professional achievement.
Shawnee State is accredited by the Higher Learning Commission (hlcommission.org), a regional accreditation agency recognized by the U.S. Department of Education
Our online RN to BSN program is accredited by the Accreditation Commission for Education in Nursing (ACEN)
Ranked among the "Regional Universities Midwest" by U.S. News & World Report1
Online Degrees and Certificates
Choose from a variety of academic programs that provide unique educational and professional opportunities.
The Criminal Justice Certificate program imparts skills for a rewarding future in law enforcement. Shawnee State designed this program for criminal justice professionals striving to advance their careers and individuals seeking to supplement a degree in a different field with valuable criminal justice skills.
Pursue the Graduate Certificate in Mathematical Science to gain qualifications for teaching Ohio's College Credit Plus, dual credit, and college-level mathematics courses. Shawnee State designed this 100% online program for educators with backgrounds in disciplines other than mathematics, giving them specialized skills for mathematics instruction.
Shawnee State's online Graduate Certificate in Composition and Rhetoric program opens doors to advanced professional opportunities in teaching and education administration. We designed this program for licensed secondary teachers who have completed a master's degree and want to acquire a credential for teaching dual-credit composition classes in Ohio.
Prepare to achieve your goals with the Associate of Arts in General Studies degree from Shawnee State. The online general studies degree introduces you to a rich array of educational topics to help you develop the academic foundation for starting a new career or exploring advanced degree options.
The online Bachelor of Arts in Criminal Justice degree program helps you build a strong understanding of criminal behavior and develop the skills necessary to land a rewarding career in law enforcement. While seeking your bachelor's degree, you can learn to identify solutions to problems affecting the criminal justice system and critically evaluate law enforcement policies and practices. After graduation, you'll have qualifications for roles in policing, corrections, and other criminal justice areas.
Strengthen your unique talents to achieve your career goals in diverse professional fields with the online Bachelor of Individualized Studies degree program. This online program offers courses that align with multiple personal interests and professional aspirations with support from an academic advisor who can help develop your plan of study.
Our online Bachelor of Science in Business Administration: Accounting degree will prepare you for a variety of in-demand accounting careers and provides the credential required to take the certified public accountant (CPA) exam.* The program explores key accounting topics through a curriculum founded on business principles and builds skills in taxation, auditing, advanced cost concepts, and more. In addition, the online BSBA Accounting degree offers customization options in four upper-division accounting courses to allow you to design a program that meets your individual career goals.
The online Bachelor of Science in Business Administration: Healthcare Administration program combines fundamental business skills with career-ready leadership expertise for healthcare settings. We designed this program with your career success in mind by offering concentration options in healthcare administration care and long-term care. The healthcare administration care track explores effective management techniques for hospitals and clinics, while the long-term care track focuses on the practical experience required by licensed nursing home administrators.
The online Bachelor of Science in Business Administration Information Systems Management program delivers the skills necessary to succeed in a growing field. Through a curriculum that combines business fundamentals with career-ready skills for Management Information Systems (MIS), you'll build the competitive edge you need to stand out to employers and land the career you want.
The online Bachelor of Science in Business Administration: Management program delivers essential leadership expertise and advanced decision-making skills that you can apply in the workplace immediately. Through courses built on core management principles, you'll examine diverse business sectors and learn effective management techniques for various professional roles.
By choosing the online Bachelor of Science in Business Administration: Marketing program, you'll gain the advanced expertise demanded by today's top marketing agencies. Through a curriculum that combines innovative marketing strategies with business essentials, you'll build skills in project management, business legalities, professional communication techniques, and more. Courses for the online BSBA Marketing program also offer the opportunity to develop a portfolio to demonstrate your capabilities to future employers.
Coursework for the Bachelor's in Health Science program includes topics such as foundations of the U.S. healthcare system, ethical issues related to healthcare or biotechnology and medicine, and quantitative and qualitative research methods. You will also learn management techniques in the healthcare environment, healthcare finance principles, and epidemiological investigation practices while developing the skills required for becoming an effective healthcare leader.
With the online RN to BSN program, you will study legal and ethical issues related to nursing and healthcare, the history and evolution of various nursing theories, and cultural influences that affect health, illness, and health-seeking behavior. The ACEN-accredited program also provides an understanding of healthcare policy and planning at the local, state, and federal levels, along with the promotion of quality of life for aging populations. You can complete the program in nine to 18 months.
With this online program, working teachers can transform their skills and gain credentials for teaching mathematics at the high school and college level. You can also establish a foundation for pursuing a doctoral degree in mathematics. In 2020, Online U named Shawnee State one of the "Most Affordable Online Colleges" that offers a master's degree in mathematics.
The Occupational Therapy Doctorate (Post-Professional) features advanced coursework in the application of theory and evidence-based practice, policy and occupational justice, and occupation-based interventions and programs. The program also provides professional development and clinical leadership skills for entrepreneurship, occupation-based practice, and clinical instruction.
Prepare to create and execute high-quality writing instruction by seeking your master's degree in composition and rhetoric online. You'll learn teaching practices tailored to higher education and explore strategies based on theory and empirical research in the field. Through this program, you can develop skills for becoming a college professor or teaching dual-credit composition courses.
Pursue our master's in curriculum and instruction online to build on your teaching skills and discover what it takes to become an effective intervention specialist. Completing our online Master of Education in Curriculum and Instruction prepares you for many positions, including educational consultant, instructional coach, curriculum designer, instructional designer, principal, and more.
The online M.Ed. Intervention Specialist is a licensure program that will prepare you to work with exceptional students in an inclusive classroom environment. This degree could lead to work as a special education teacher, elementary education instructor, instructional coordinator, or behavior intervention specialist.
About Us
Shawnee State University has provided students with personalized educational experiences since opening its doors as a public institution in 1986. Our future-focused degrees and certificates fit varying backgrounds and current goals, enabling you to take a direct path to career advancement and personal achievement.
Request Info
A Quality Education on Your Schedule
When you study online at Shawnee State, you'll experience an education that matches the quality of our on-campus programs. At the same time, our online courses allow you to gain relevant career skills without committing to a set schedule. This flexibility makes it more convenient to pursue a degree or certificate while meeting your work and life commitments.
Online Courses That Focus on Your Success
Shawnee State designs curricula to meet the needs of professionals ready to take the next step in their careers. We take a student-focused approach to academics, challenging you to grow while providing support to help you do just that. Here, you can receive a quality education elevated by: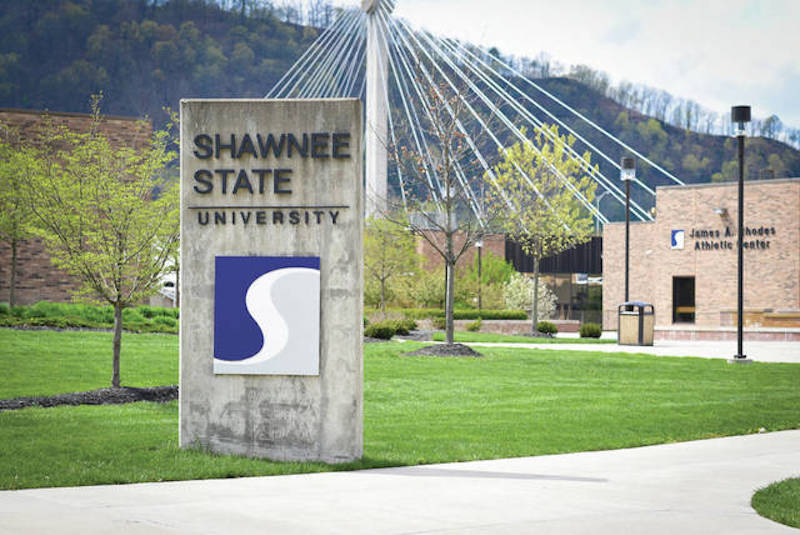 Follow Our Graduates Into Rewarding Career Fields
Shawnee State prepares students to enter or advance in rewarding career fields, including business, education, criminal justice, and nursing. Our graduates have a long-standing track record for professional success, as 83 percent are employed in a field related to their degree within six months of graduating. Additionally, the percentage of our nursing and education students who pass national license exams is consistently higher than state and national success rates.
Potential Career Paths for Our Graduates
Marketing Manager: $135,030 per year2
Medical and Health Services Manager: $101,340 per year3
Elementary, Middle, or High School Principal: $98,420 per year4
Network Administrator: $80,600 per year5
Registered Nurse: $77,600 per year6
Sources and Disclaimer
U.S. News & World Report. "Best Regional Universities Midwest Rankings." Retrieved May 31, 2023, from https://www.usnews.com/.
U.S. Bureau of Labor Statistics. "Advertising, Promotions, and Marketing Managers." Retrieved December 1, 2022, from https://www.bls.gov/.
U.S. Bureau of Labor Statistics. "Medical and Health Services Managers." Retrieved December 2, 2022, from https://www.bls.gov/.
U.S. Bureau of Labor Statistics. "Elementary, Middle, and High School Principals." Retrieved December 2, 2022, from https://www.bls.gov/.
U.S. Bureau of Labor Statistics. "Network and Computer Systems Administrators." Retrieved December 5, 2022, from https://www.bls.gov/.
U.S. Bureau of Labor Statistics. "Registered Nurses." Retrieved December 2, 2022, from https://www.bls.gov/.
* While the 120 hours will lead to graduation from Shawnee State University, and currently meet all the CPA required courses to sit for the CPA exam in Ohio, this might not allow you to sit for the exam or become licensed if you pass the CPA exam. Most states require 150 semester hours to sit for the exam or to become licensed, including Ohio. To determine the exact rules and requirements to sit for the exam/become licensed in your state, please go to nasba.org and review your state's rules as to classes and hours required. Because of the changing nature of state accounting laws and regulations, all graduates should review this at least yearly.